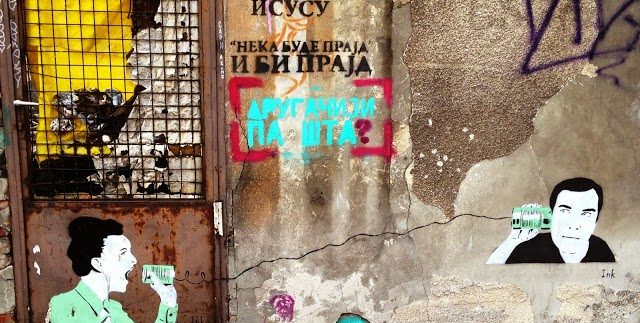 Visit Savamala Belgrade's Creative District
Urban regeneration. Moving from urban decay towards urban chic. That's Savamala. It all started around 2008. Renewal of ex industrial buildings, mostly warehouses are turned into art galleries, culture centers, bars and clubs. Public art beautifies devastated facades. Graffiti and murals represent a crucial part of regeneration. Local street artist enriched the facades with a help of foreign guests. Each year in the time of Mikser festival a new mural appears. Savamala slowly became town's creative hub and district. City Break Apartments always recommends this area to our guests as a must visit Belgrade district for cultural and night life.
Club culture is vivid. Each month a new place pops up. On the picture you can see Mikser house, a venue that represents a part of Savamala's creative industry. It's a big place that serves as a concert hall, club, bar, restaurant, design show room and a shop.
Right next you can see Savamala's trio- Radost (restaurant), Ludost and Mladost (bar and club) connected with a corridor. Just across the street Gallery 12 New Media Hub showcases exhibitions related to new media arts. Here you can see artworks of locals as Simonida Rajcevic or Dzoni Rackovic or even performance of NYC based artists Eleana Katz.
In Brace Krsmanovica street Culture Centre Grad (KC Grad) is located. It's the most visited and the coolest culture center in town. Creates exhibitions, debates, movie-screenings, festivals, DJ gigs and concerts. The most visited events are Moda za poneti (Takeaway Fashion)-local fashion and jewelry designers are selling their products in duration of three days and Delikatesni ponedeljak (Deli Monday)-every Monday at 19h the special guests are cooking food for everybody. The price of the coupon is 150 RSD. Of course you can buy more than one.
In the same street, Dvorištance and Peron are cool alternative clubs. Ben Akiba, stand up comedy and a cocktail bar is worth a visit. Next to it stands Tranzit, a new up-market restaurant.
If you are one of those beer drinkers and sausage lovers don't miss newly open Berliner pub.
Beautiful old building on the picture stands right next to colorful staircase. In the penthouse you can visit Apartman, one of the rare gay and lesbian clubs in the city. If you feel hungry you can eat in Gnezdo Organic, a cozy organic restaurant that stands on the 3rd floor and works in the afternoon. In the well hidden yard stands Basta, one of the finest jazz bars in Belgrade. Vintage interior and well prepared cocktails mixed with perfect location made this bar favorite of many.
If you need accommodation in this hip neighborhood of Belgrade, City Break Apartments can provide nice looking and fully equipped apartments called Apartment Savamala, Apartment Palace 29 and Apartment Soho. Just to note that city center is very near, 10 minutes by foot from Savamala, where you can also find cozy and good looking apartments in Belgrade provided by our company that operates in Belgrade for many years.