SAVAMALA, BELGRADE OLDEST CITY DISTRICTS
---
One of the oldest city districts, an urban neighborhood of Belgrade, now full of cafes, bars, clubs and restaurants.
Mikser house, a venue that represents a part of Savamala's creative industry. It's a big place that serves as a concert hall, club, bar, restaurant, design show room and a shop.
Savamala's trio- Radost (restaurant), Ludost and Mladost (bar and club) connected with a corridor.
In Brace Krsmanovica street Culture Centre Grad (KC Grad) is located. It's the most visited and the coolest culture center in town. Creates exhibitions, debates, movie-screenings, festivals, DJ gigs and concerts. The most visited events are Moda za poneti (Takeaway Fashion)-local fashion and jewelry designers are selling their products in duration of three days and Delikatesni ponedeljak (Deli Monday)-every Monday at 19h the special guests are cooking food for everybody. The price of the coupon is 150 RSD. Of course you can buy more than one.
In the same street, Dvorištance and Peron are cool alternative clubs. Ben Akiba, stand up comedy and a cocktail bar is worth a visit. It is a chic lounge for lovers of quality drinks, music and stand up comedies.
Address: 6 Braće Krsmanovića
Next to it stands Tranzit, restaurant and bar, 8 Braće Krsmanovića street. If you are one of those beer drinkers and sausage lovers don't miss Berliner pub. It offers more than 50 beer labels and German and homemade sausages and wings. Definitely a place worth checking out! Address: 6-8 Braće Krsmanovića
If you feel hungry you can eat in Gnezdo Organic, a cozy organic restaurant that stands on the 3rd floor and works in the afternoon. In the well hidden yard stands Basta, one of the finest jazz bars in Belgrade. Vintage interior and well prepared cocktails mixed with perfect location made this bar favorite of many.
Beton Hala Restaurants on the Riverfront
Beton Hala (Concrete Hall) stands in 2-4 "Karadjordjeva" Street, in the neighborhood of Savamala. It is located near the city harbor, on the Sava river. The current Concrete hall in the first decade of this century is intensively used for tourism, hospitality and commercial purposes, especially with arrival of foreign tourists and citizens of Belgrade revealing great potential of Belgrade rivers. Beton Hala contains the entire line of trendy restaurants and clubs.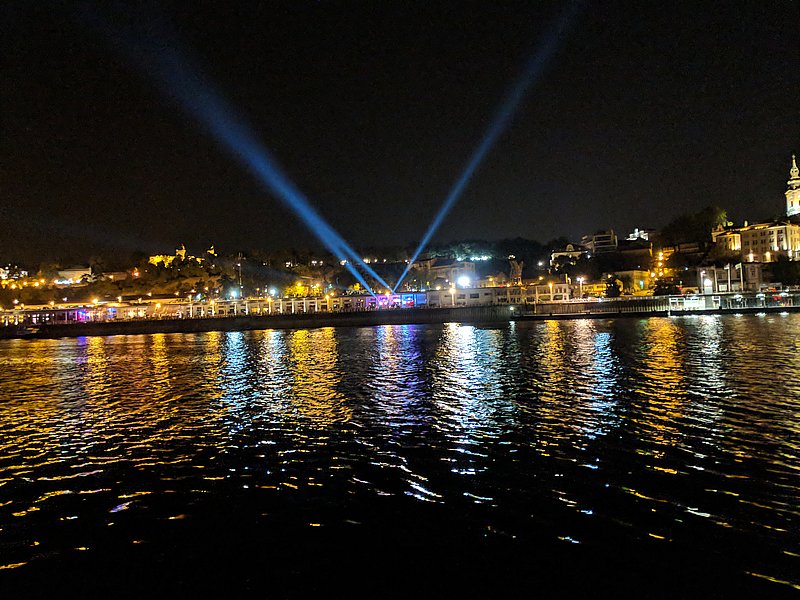 Communale, Italian restaurant. Represents on of the best designed interiors in town.
One of the most famous places on the riverfront is definitely Cantina de Frida. Crowded by day and by night when it works as a lounge. The concept of the restaurant is inspired by the life and the work of Frida Kahlo. Spanish and Mexian dishes are on the menu.
Toro latin gastrobar. Mixed interior, enriched with a lot of cool details. The first level is laid back: walls of white bricks and wood, comfortable sofas, colorful wooden and plastic chairs, wallpapers and open kitchen. While, the second level is more refined. The concept of the restaurant offer is based on small plates and South American flavors. Cocktails are awesome and the food is fresh. Cool music selection and descent prices.
Sakura. This is a lounge and a restaurant that offers Asian cuisine and variety of cocktails. One of those hip places in the city. Good restaurant for sushi and sea food lovers and people who like to feel trendy.
Beton. Up-market club that features house and r'n'b' music. One of those poser type city clubs. Fancy outfits and selfies.
Kran stands on the beginning of Beton Hala. Kran is more alternative spot compared to other trendy hot spots at the same location. The mixture of traditional and vintage makes interior. Traditional specialties are served in modern way. Works as a restaurant, cocktail bar and a club that supports jazz, rock and blues musicians. You can park on the rooftop garage if you are traveling by car. If not, tram 2 will lead you to this venue. Or you can walk from the city center, It will take you around 15 to 20 minutes.
Sofa. This is almost new restaurant in Beton hala. As other restaurants occupies two levels of a wide space with colorful chairs and large canvas hanging on the wall. White and silver color are dominant, but design monotony is bit broken with purple, green, blue furniture and vintage looking chandeliers. One wall is made of wood where sofa is pinned.