Foodporn – Gastronomic Perversion
Cetinjska 15
Sunday to Thursday 12:00 to 24:00
Friday and Saturday 13:00 to 1:00
The latest hip clubbing neighbourhood Cetinjska street is not only popular because of a large number of nightclubs, but as well after one place where the food is so good that you will keep coming back for more.
Foodporn opened its doors in 2016 offering new concept, modern and original design and unique food combinations that will make your tummy pur from enjoyment. Their motto says "We are dirty – not clean" and if you act according to Foodporn rules you will be dirty too! And yes, everything is inspired by that "filthy word" – porn. But trust us, you won't feel uncomfortable at all… Just as #foodporn stands for everything which is super tasty and perversely good, this burger place named after popular hashtag justifies its name completely. The offer includes very creative selection of juice mouthwatering American style burgers made of 100% beef meat, sausages, quesadillas, tortillas… yet in the spotlight of the menu are those wonderful burgers.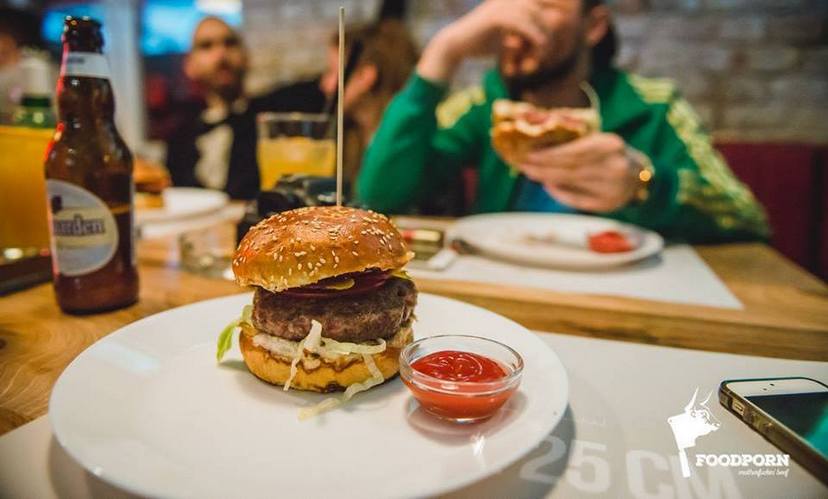 The great thing is that you can choose among prearranged combinations of ingredients or make your own combinations. Your final choice comes to the fact whether you love/are Big Daddy or Fat Mama, Gigolo, El Patron or something other from a quite entertaining and witty choice of burger names and combinations of condiments. All that is followed by abundant portions of tasty porn frit (Foodporn's version of french fries) and onion rings.
So, before heading into a wild nightlife and cruising thru clubs in Cetinjska Street drop by Foodporn to have a dose of energy that will take you thru the night and that crazy Belgrade partying!
If you are looking for a nearby place, check out:
Studio apartment Radio Funky
One bedroom apartment Klishe Zen
Two bedroom apartment Downtown
Studio Apartment Ideal
Two Bedroom Apartment Style